Mint Hotel Tower of London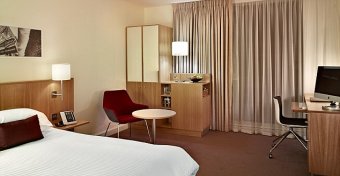 Feeling giddy from pirouetting several times to take it all in, I take a pew to get my breath back while exploring the expansive lunch menu. I can vouch for the burger - arguably the best I have ever had.
All seven of Mint's hotels across the UK - two in London, and one in each of Birmingham, Manchester, Leeds, Bristol and Glasgow - feature terraces that, British weather permitting, allow you to go sight-seeing without taking to the streets.
At the Tower of London hotel, newly opened on the ground floor is the Fenchurch Lounge, a spacious, straight-off-the-street facility to add to one of the trendiest sky bars in the city.
You may not get the view, but you do get the vibes. You don't even have to leave the street as the new outdoor terrace in Savage Gardens, sponsored by Laurent Perrier, is stuffed with outside seating in keeping with the lifestyle of the famously bustling Leadenhall Market just a stone's throw away.
The street has been pedestrianised, allowing guests to enjoy a relaxed coffee or bite al fresco. There are also large umbrellas for those who wish to find shade.
This part of London is a centre for young urbanites, working and playing hard. After work drinks will see the bar fill up and you can bet most of the overnight visitors are businessmen.
Skyline: The Mint Hotel Tower of London offers a chance to see the sights of London without wearing your legs out
But, due to the nature of the City, come the weekend, the Square Mile empties and tourists can make the most of this surprisingly affordable accommodation (somewhat at odds with its name), great surroundings and an ideal spot for reaching the Olympic site, now a tourist attraction in its own right.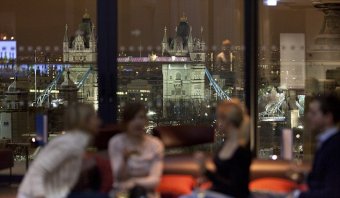 Mint Hotels endeavour to stay ahead of the game, which is why they always build their hotels from scratch. It apparently enables them to stay abreast of everything that is today's, rather than yesterday's, state of the art, and at the same time be incredibly innovative. Quite a promise in cities where open space is at a premium.
Which is perhaps why the Mint Hotel Tower of London was built, somewhat unglamorously, on a car park. Despite its humble beginnings it opened to fanfare in December 2010 and is the group's UK flagship. It certainly has many flags to fly.
For example, it is the only hotel in London offering iMacs in guest rooms as standard and has free Wi-Fi throughout. Given the appeal of everything Apple, it's great for guests who love a gadget.
The iMacs also come loaded with Skype which means an end to those cripplingly expensive phone calls home.
For such an affordable price, you would maybe expect a less-than-luxurious room. But my bed is big, the furniture is unpretentious and the bathroom more than adequate.
Kitted out: All the rooms come complete with Apple products to ensure a comfortable stay
The decor is fresh and minimalist, all smooth surfaces and curved corners and, due to the modern construction, the rooms boast bigger windows than you would normally get in an older London hotel.
I opted for a Weekend City Club package, which includes late check-out, a concierge-style service, free newspaper and bottle of wine from the minibar and White Company toiletries to name but a few extras. It does cost from an extra £50 a night, but is a nice treat if you're looking to make the most of your break.
The hotel also has its own free-of-charge film library available at the touch of the remote button - although the aspect from a good many of the bedroom windows makes for much better viewing.
The upper floors above the tree tops offer rooms with the best vistas - some of which boast glimpses of the Tower of London and the Thames - and the top floor suites have unhindered views.
Co-founded in 1995 by Sandy Orr, executive chairman, Donald McDonald, vice chairman, and David Orr, chief executive, with Bill Crerar, the company became the first joint venture with Bank of Scotland in 1998.
As well as its seven UK hotels. Mint has also recently spread its wings into Europe and opened its first hotel in Amsterdam in June. Others in Paris and Rome are set to follow.
I know what rooftop bars I'll be aiming for on future city breaks.
Travel Facts
7 Pepys Street
City of London
EC3N 4AF
For more information, call 0207 709 1000 or visit www.minthotel.com
Special offer: Stay at Mint Hotel Tower of London, including breakfast and VAT, from £129 per night. Available until November 27.
Source: www.dailymail.co.uk
Video on topic: Mint Hotel Tower of London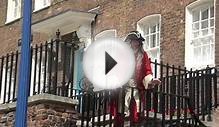 Melee at the Mint, Tower of London, Part 1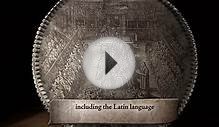 Charles vs Cromwell - Royal Mint, Tower of London
Share this Post
Related posts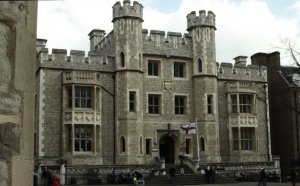 OCTOBER 02, 2023
The Tower of London is admired for its architecture and its history but it is most remembered for the bloody executions…
Read More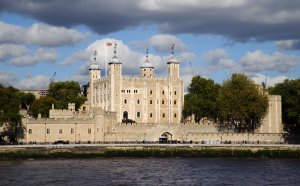 OCTOBER 02, 2023
Reference: The Tower of London is a 900-year-old castle and fortress in central London that is notable for housing the crown…
Read More