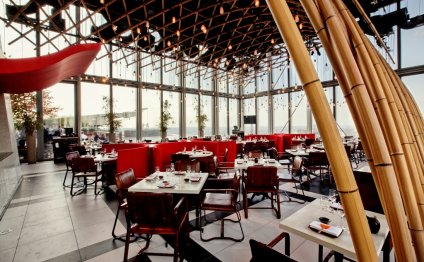 SushiSamba London Heron Tower
Eating at Sushisamba brought to mind the sport of Extreme Ironing. Both involve doing something mundane at an unusual height.
Of course, in the case of the ironing it can also be at a great depth, under water or in the middle of heavy traffic. At Heron Tower food is served on the 38th and 39th floors of what is currently the tallest building in the City. Views from there are not unlike those you might get from a plane stacked over Heathrow waiting to land.
The biggest excitement was taking one of the dedicated lifts. They are reached through a discreet glazed door on one side of the building (the tallest in the City remember) behind which hovers an operative with a clipboard who issues the first of the deeply concerned questions regarding your well-being.
As we waited for a lift to arrive, I ran out of polite or even mildly interesting answers to the repeated "How are you?". Finally I just said, "Mmm". But the ride in the glass box ascending at speed was not so much like watching the unspooling of a film as being the film. A fantastic, ear-popping experience; boiled sweets to suck should be offered.
Leaving the lift at restaurant level you are decanted into a pokey corridor which opens out into the bar area and one of the terraces complete with fake tree — a view with room to smoke. Staff gathered around the reception desk — smiling so hard I was worried that they were going to be sick — asked how we were.
Then there was something of a sushishambles as we were passed from person to person — "How are you? I'm absolutely fine. Thanks" — until we reached our table with a view to the east that encompasses the Olympic Stadium.
There was a long wait for the virgin mojito and pisco sour we ordered — later removed from the bill — and we wished there had been a map printed on the menu to help identify landmarks and sights on the way to realising that the only way is Essex.
Our waiter, who could not be faulted for cordiality or sincerity, explained at some length Japanese immigration into Brazil and Peru, the social history behind the fusion of cultures that informs Sushisamba's food offering. In the financial heart of a sophisticated city in a restaurant where main courses — or, as they put it, large plates — range between £15 and £45, might it not be wiser to assume some knowledge on the part of customers or give them the benefit of the doubt in imagining that they can make their own entertainment and conversation?
When Reg and I wanted to settle our scintillating debate as to whether there are presently more Japanese living in São Paulo or in Paraná, there was, needless to say, no one on hand to adjudicate …
The bold pricing made us timorous in ordering. Avoiding Large Plates, we chose from other sections — Aperitivos, Small Plates, Raw, Robata and Samba Rolls. As an accompaniment to the drinks when they finally arrived, green bean tempura with black truffle aioli were faultlessly deep-fried but the presence of truffle in the dip was, how shall we say, fugitive. Tuna tataki and yellowtail tiradito exhibited no intrinsic flavour and the mouth feel of the raw fish was flaccid and sulky.
Robata offers skewers — anticuchos — grilled over charcoal. Octopus with Peruvian red pepper was too salty and vinegary to be enjoyable.
In case you are wondering, the £45 large plate is five meats — grilled hanger steak, rib eye, pork tenderloin, chorizo and linguiça (smoked, spiced pork sausage) served with chimichurri and best for sharing. If you wanted plantain or Peruvian corn to go with it, that would be an extra £5 plus 15 per cent service.
The two Samba Rolls we tried — Ezo comprising salmon, asparagus, onion, chive, sesame, tempura crunch, soy paper and wasabi mayonnaise and Wagyu Te Amo fashioned from beef, quail egg, garlic chip, sweet potato, scallion and pear soy — were the best of the assemblies chosen.
They were complex in a good way and the rice element absolutely correct in texture and temperature. However, if you can bear sushi and sashimi without a view, why not go to Dinings, Sushi of Shiori, Yashin, Sushi Tetsu, Sushi Say or Yoshino, where they might screech out a welcome — irasshaimase — even if you are not asked how you are (too intrusive).
On the 40th floor Samba Brands Management (SBM), which oversees Sushisamba — also in New York, Miami, Chicago and Las Vegas — has opened Duck & Waffle, which post-Olympics will become a 24-hour operation. Prices for the European food are kinder, the view arguably even "better". No tablecloths to iron at either place.
FIVE THINGS FAY ATE THIS WEEK
1. At Noma at Claridge's, live Jutland ants brought to their knees by crème fraîche as they raced freestyle over cabbage leaves. Whole celeriac roasted in goat's butter with black truffle sauce and lamb neck with "peaso" were sublime.
2. Watched Frankel (the Usain Bolt of racehorses) win at Goodwood with a picnic from Corrigan's Mayfair that included a luscious terrine of duck and a fine, brambly Saumur-Champigny.
3. Perfect harengs pommes a l'huile using Ratte potatoes at the slice of idealised France in Knightsbridge that is Chabrot Bistrot d'Amis.
4. At Sonny's Kitchen in Barnes, grilled quail on a bed of nutty, wholewheat, hand-rolled, sundried Zaytoun couscous imported from a women's co-operative in Palestine.
5. Fabulous Scotch eggs with crunchy prawn cracker crust and excellent pork and peanut curry made by Cook in Boots, the beauteous Ravinder Bhogal, at the first of three different pop-ups Downstairs At Blacks, Soho.
Source: www.standard.co.uk
Video on topic: SushiSamba London Heron Tower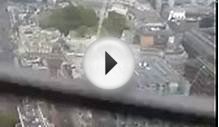 View from Heron Tower / Sushi Samba, London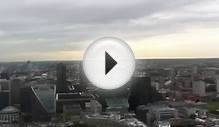 The lift to Sushi Samba, Heron Tower, London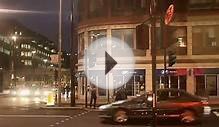 A night ascend up Heron Tower to SUSHISAMBA
Share this Post
Related posts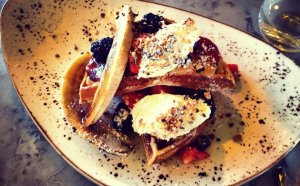 DECEMBER 06, 2023
Lofty ideas: astonishing views over London from Duck & Waffle s dining room. Photograph: Karen Robinson for the Observer…
Read More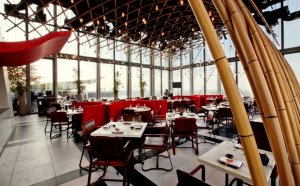 DECEMBER 06, 2023
There's a dedicated entrance for the restaurants in Heron Tower, from where a glass lift will whizz you in seconds up to…
Read More