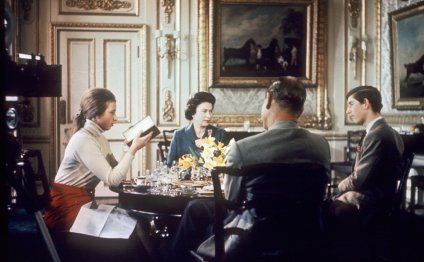 Windsor Castle inside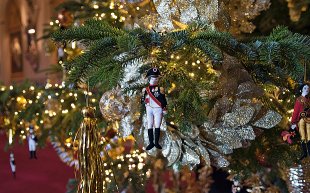 'The seven children were then taken to the tree, jumping and shouting with joy over their toys and other presents: the boys could think of nothing but the sword we had given them and Bertie some of the armour, which however he complained pinched him.'
Monarchs have celebrated Christmas at Windsor, the oldest and largest inhabited castle in the world, since the 12th century.
George IV spent his childhood here, Queen Victoria and Prince Albert celebrated most Christmases here together, and our current Queen, who would perform wartime family pantomimes with Princess Margaret at the castle, continued to celebrate the festive period at Windsor until the late 1980s, when she started going to Sandringham House, her private residence in Norfolk.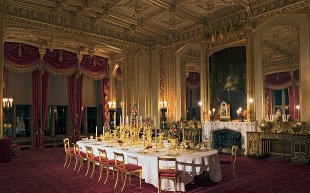 To celebrate Christmas the castle has been transformed into a triumphant show of crimson and gold, with a Regency theme to complement Royal Collection Trust's bicentenary display of the Battle of Waterloo, which closes in January (Napoleon's discarded cape is on display, along with several important works of art commissioned by the Prince Regent to celebrate the allies' victory).
It's a warm, bright day in November and 20 men are struggling with a 24ft Nordmann fir tree in St George's Hall, chopped down from the Crown Estate. 'It was 4ft bigger than we expected, ' says Sally Goodsir, curator of the Regency-themed Christmas displays at Windsor. 'But we've squeezed it in.'
"Prince Albert popularised bringing a fir tree inside, a German tradition not then practised in England"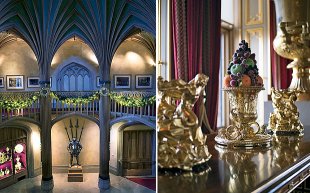 As the castle has remained open while they are decorating for Christmas, members of the public have been wandering around as they put up the display. 'One five-year-old boy came in, saw the undecorated tree, and said, "Wow, that's magnificent, " ' Goodsir says, smiling. 'It made my day.'
It will take a further eight people all day to decorate with 22 different types of ornaments, from mini Dukes of Wellington and Napoleons that fit in with the Waterloo display in the rest of the castle, to shiny golden bugles, tassels and wreaths. No historic ornaments are used.
'We have only a few very delicate ones from Queen Victoria's time, ' Goodsir says. Instead she reuses decorations from previous displays, and tops up at Christmas markets. More than 1, 500 lights are used on the tree. A cherry picker from the castle was called in to put the angel on top.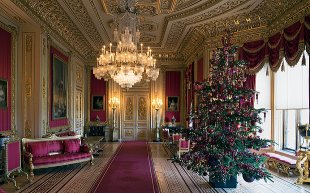 St George's Hall is where the Queen often hosts state banquets. The room is lined from ceiling to floor with the shields of all the Knights of the Garter to have been appointed since Edward III founded this, the oldest order of chivalry in the world, at Windsor in 1348.
A spot opens up only once a previous knight has died – Prince William was number 1, 000 – and investitures take place in the castle's Throne Room. The Christmas tree, now fully decorated in red and gold, stands magnificently at the end of the hall, which is flanked by 12 suits of armour.
Another resplendent Nordmann fir, this one 10ft, stands in the Crimson Drawing Room, which was redecorated for George IV in the colour that gives it its name. Today it is where members of the Royal Household receive gifts from the Queen. Queen Victoria and Prince Albert loved to spend Christmas at Windsor.
'It was their place in the country, ' Goodsir says. 'They could relax away from court.' Albert first popularised bringing a fir tree inside, a German tradition not then practised in England.
'He knew them from his childhood in Germany. Before that people would bring in potted yew trees, or foliage such as holly and ivy. But not mistletoe – that was considered too pagan.'
Source: www.telegraph.co.uk
Video on topic: Windsor Castle inside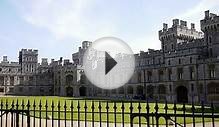 Windsor Castle: Inside Courtyard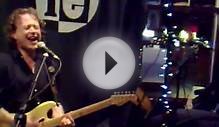 Inside Edge performing in the Windsor Castle 15_12_07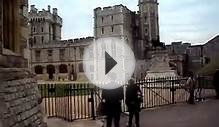 Inside Windsor Castle 10.16.2009 - pt3
Share this Post
Related posts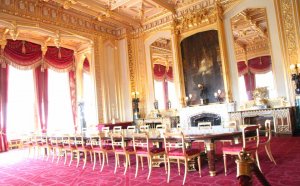 JUNE 11, 2023
I recently attended the Investiture at Windsor Castle for my father s knighthood for over 30 years of political service…
Read More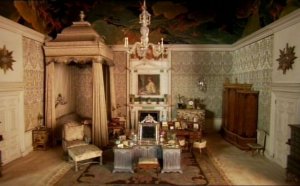 JUNE 11, 2023
The largest, most beautiful and most famous dolls' house in the world. Built for Queen Mary by the leading British architect…
Read More