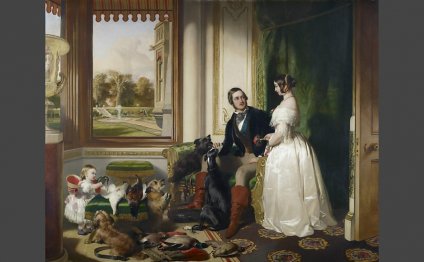 Windsor Castle in modern times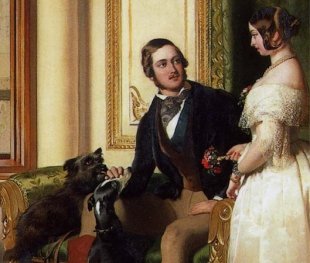 Sir Edwin Landseer, Windsor Castle in Modern Times; Queen Victoria, Prince Albert and Victoria, Princess Royal, 1840-43, oil on canvas, 113.3 x 144.5 cm (The Royal Collection)
A Tribute to Home, Hearth and Hounds
When one thinks of Sir Edwin Henry Landseer, RA, many accomplishments come to mind. An English animal painter of mainly horses, dogs, stags and lions, Landseer's works became commonplace in the homes of Victorian audiences, and his Lion sculptures sit proudly in Trafalgar Square to this very day.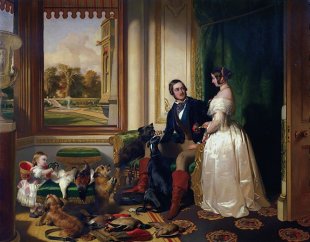 However, perhaps the most relatable Landseer artworks to our modern eye are those which depict the enduring relationship between the royal family and their dogs, a love affair which many modern pet owners can relate to. Windsor Castle in Modern Times presents such a scene and, as such, acts as a window into which we can explore both our love of Landseer and of dogs.
A Conversation Piece
Windsor Castle in Modern Times was modelled off a type of painting known as a 'Conversation piece'—in which a group of people (normally family) would be positioned in an informal setting engaged in conversation, or a similar activity—and this painting by Landseer was certainly a discussion point among its royal patrons. Begun in 1840 and not finished until 1845, multiple sittings and bouts of time when Landseer appeared not to work on the painting at all meant that Queen Victoria was far from amused.
Despite this, when the painting was finally hung up in her sitting room in Windsor Castle, Queen Victoria determined with no hesitancy that the painting was a "very beautiful picture, & altogether very cheerful & pleasing." And, when looking at the painting, it's not hard to see why the final result was received so positively.
Regal but relatable
The painting depicts an encounter between Victoria and Albert, in a drawing room at Windsor Castle (a medieval castle at Windsor that Queen Victoria used as the principle royal residence), just after Albert has come back from a day out hunting. Triumphant in his endeavours, as can be seen from the game that is sprawled out across the room, Victoria greets Albert with the presentation of a small bouquet of flowers (known as a nosegay), whist their eldest child, Victoria, can be seen playing with a dead kingfisher. The scene is, of course, entirely manufactured for the conversation piece—game would not be spread out with such compositional intent in the drawing room, or spread out in the drawing room at all for that matter!—but this is a large part of the painting's charm and success.
Prince Albert and Queen Victoria (detail), Sir Edwin Landseer, Windsor Castle in Modern Times; Queen Victoria, Prince Albert and Victoria, Princess Royal, 1840-43, oil on canvas, 113.3 x 144.5 cm (The Royal Collection)
Source: www.khanacademy.org
Video on topic: Windsor Castle in modern times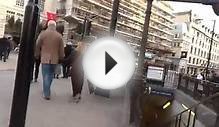 Buckingham Palace Windsor Castle & Piccadilly Circus ...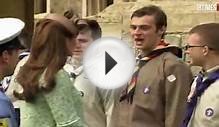 Princess Kate Glows In Green At Windsor Castle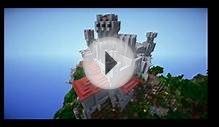 Minecraft Timelapse - Modern Castle
Share this Post
Related posts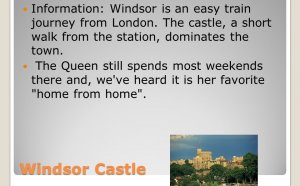 OCTOBER 02, 2023
Perhaps the most famous castle in the World, Windsor Castle is home to Her Majesty Queen Elizabeth II and is undoubtedly…
Read More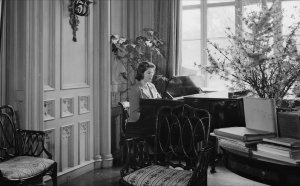 OCTOBER 02, 2023
Security breach: Royal protection has been stepped upfollowing the incident at Windsor Castle Royal protection has been stepped…
Read More