London Tower Bridge Opening Times
Opening Hours: Bridge: Public Highway
Exhibition: April to September: 10:00 - 18:00; October to March 09:30 - 17:30
Cost: Adults £8.00, Child £3.40, (under 5's Free),
Concessions £5.60 (Senior, Student, Disabled), Family £12.50
Facilities:Shop and Toilets
Events: see further information
Further Information: TOWER BRIDGE EXHIBITION
TOWER BRIDGE
and Exhibition
Tower Bridge, one of London's most famous landmarks, was opened in 1894 by The Prince of Wales, later King Edward VII. At that time London was fast expanding east towards the Thames estuary and required a river crossing closer than the congested London Bridge.
Designed by Sir Horace Jones, the architect of London's Smithfield, Billingsgate and Leadenhall markets, Tower Bridge is a two sided suspension bridge combined with a spectacular drawbridge (bascule). The bascules open to the virtical allowing unrestricted access for the tall-masted ships of the time, and still today, to enter the upper Pool of London.
The two 65m steel framed towers, decorated in Cornish granite and Portland stone, are built on huge concrete piers sunk into River Thames. The top of the towers are linked by two public walkways. In the 19th century the walkways were open to the elements and the haunt of thieves and prostitutes.
Today, covered over, the walk-ways are a major tourist attraction, containing an exhibition about the history of the bridge and offering unique views of London.
The 1, 000 ton bascules, which can be opened in less than 5 minutes, were originally driven by pressurised river water, pumped into hydraulic 'rams' by coal-burning steam engines. Today, driven by oil and electricity, the hydraulic system is still used over 1000 times a year for passing vessels.
With river traffic taking priority over road traffic, the daily flow of 40, 000 people is often disrupted. The original steam engines are part of the Towers Exhibition.
Tower Bridges unique structure has led to some interesting incidents;
In 1952 a London bus who's driver hadn't been warned that the bridge was rising jumped over a 1m gap and landed safely 2m below on the other side;
In 1968 a Royal Air Force jet fighter flew through Tower Bridge on an unofficial celebration the of the RAF's 50th birthday (the pilot was arrested and discharged on medical grounds);
In 1997, the motorcade of United States President Bill Clinton was divided by the opening of the bridge.
Tower Bridge Exhibition
The exhibition includes access to the high-level walkways with their impressive panoramic views of London and the Victorian Engine Rooms showing the inner workings of the bridge.
BRIDGE LIFTING TIMES
Source: www.walklondon.com
Video on topic: London Tower Bridge Opening Times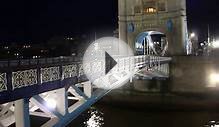 Tower Bridge Opening London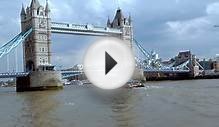 Tower Bridge London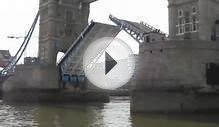 London Bridge Opening
Share this Post
Related posts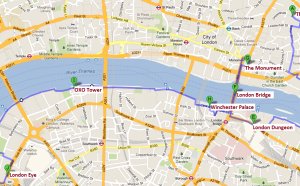 DECEMBER 09, 2023
Satellite view is showing the Tower Bridge of London straddling the River Thames. The combined suspension and double-leaf…
Read More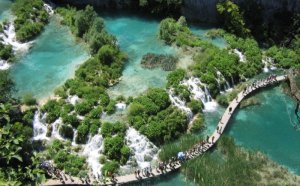 DECEMBER 09, 2023
BRIDGE Tower Bridge Carries A100 Tower Bridge Road - motor vehicles, pedestrians Maintained by Bridge House Estates Design…
Read More